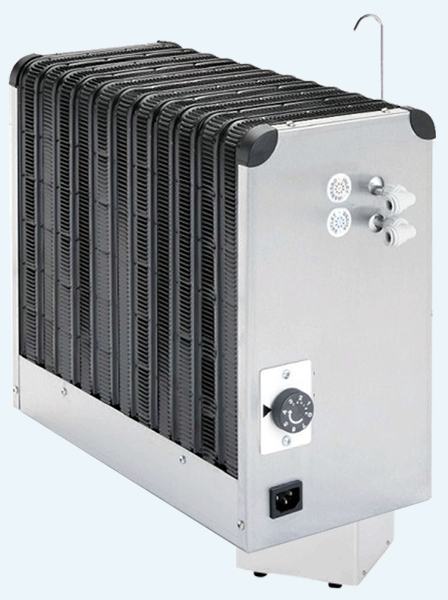 UC 880 Under Sink Chiller
The UC880C under sink chiller is a compact, discreet and stylish drinking water solution for both business and residential premises.
The system is CE approved and ensures you are provided with cool, filtered water through the chrome faucet.
Its highly efficient refrigeration unit has low energy usage, helping you to save money whilst being provided with high quality water and its design ensures it fits comfortably under your sink.
A 2 year warranty comes on the cooling system of the chiller (excluding the tap).
Key Features of the UC880C
Cold Water – 6 litres of <10°C ARI – typical UK performance 10 litres per our <10°C ARI standard from water inlet temperature of 26.7°C and ambient temperature of 32.2°C. Performance will be greater under UK conditions.
Dimensions – H 34.5CM x W 19.5CM x D 39CM.
Weight – 13 KG Net.
Shipping Weight – 14 KG Packaged.
Inlet/Outlet Pipe Diameter – ¼" (external diameter).
Faucet as standard – Attractive chrome faucet with ¼" pipe attached.
Minimum/Maximum Operating Pressure – Maximum Pressure: 0.5MPa (5 bar). Minimum Pressure: 0.15MPa (1.5 bar). It is recommended to fit a pressure reducing valve set at 3 bar and a water block with all installations.
Cabinet – Stainless Steel.
Cold Water Tank – Sealed stainless steel tank with silver turbo clean anti-bacterial technology.
Cold Water Thermostat – Temperature is controlled to (2°C – 12°C) by adjustable thermostat, easily accessible at the front of the cabinet.
Refrigeration Unit – Convection cooled condenser, internally spring mounted hermetically sealed compressor with automatic overload protector.
Refrigerant Type – R134a.
Electrical – 220V – 240V 50/60Hz, 100V-127V 50/60Hz provided with power cord.
Quality – CE approved by Intertek – NSF Listed.
Warranty – 12 months – 24 months on cooling system (excludes tap).
Location
Health-Spa Water Ltd 136 Westborough Road Westcliff-on-Sea Essex SS0 9JF