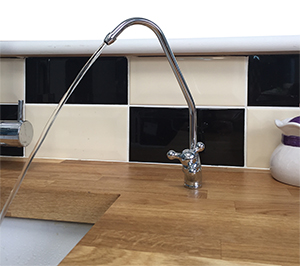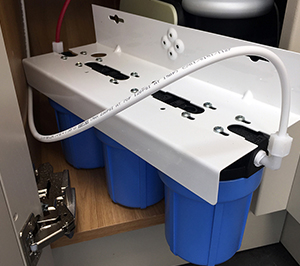 Domestic Filtration System
Health-Spa Water's domestic filtration system has been fully approved by the 'Water Research Council' and the 'Water Advisory By-Laws Association'. Our 5" water filtration system incorporates three separate filters that result in high quality water, delivered in a third tap.
There are three key stages that the filtration system goes through to provide high quality, clean drinking water for your home.
The First Stage: This is a dirt & sediment pre filter, which is highly efficient at removing matter such as rust, sand, silt and any unseen sludge.
The Second Stage: Here, the Carbon Briquette Cartridge (highly regarded as the ultimate in carbon filtration) comes into play. It has a very high chlorine removal percentage and drastically reduces any Volatile Organic Chemicals such as herbicides and pesticides that can sometimes sneak through.
This is made from powdered activated carbon compressed into a solid block comprising of 1.1 million square feet surface area. The carbon block retains an immense amount of internal channels to allow sufficient flow.
The Third Stage: Finally, the XL500 cartridge (including 20% polyphosphate) works to reduce the number of heavy metals including lead, copper, aluminium, zinc and iron as well as fluoride.
Together, these three stages combine to ensure you are provided with clean, healthy water for your home and family.
Location
Health-Spa Water Ltd 136 Westborough Road Westcliff-on-Sea Essex SS0 9JF